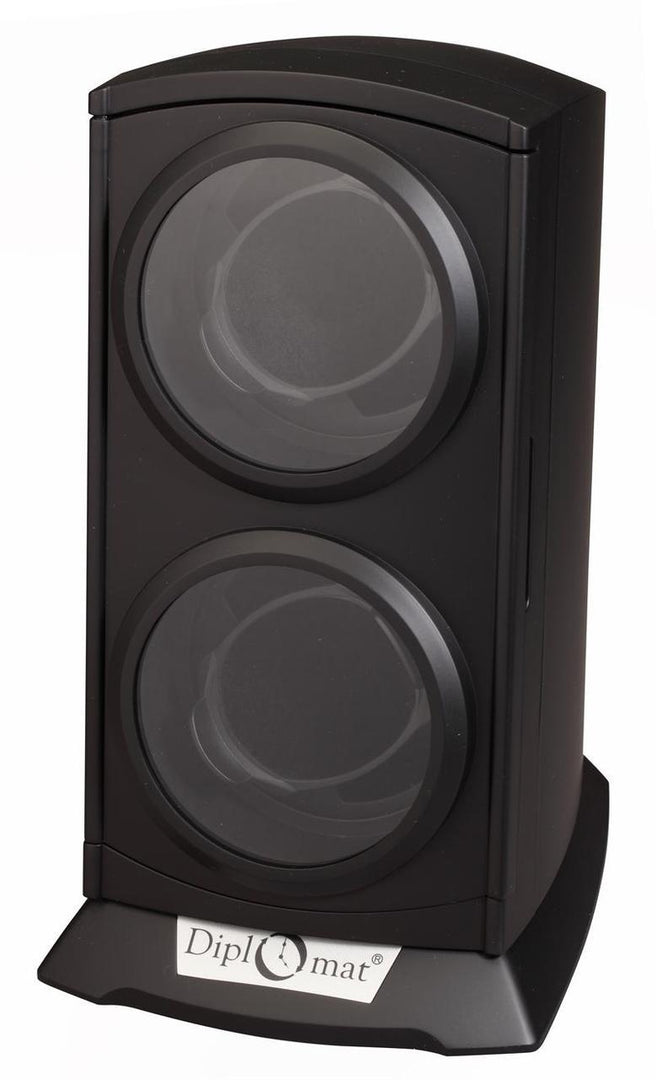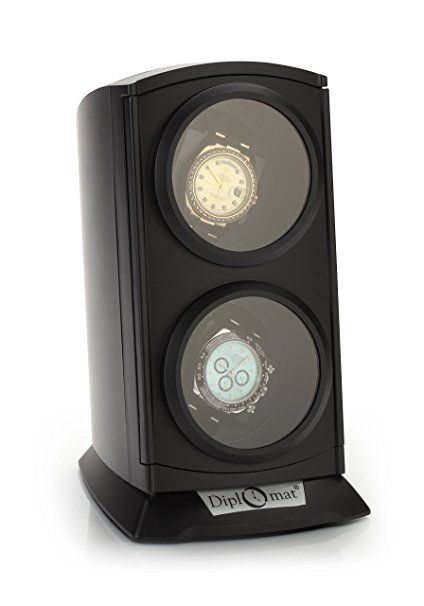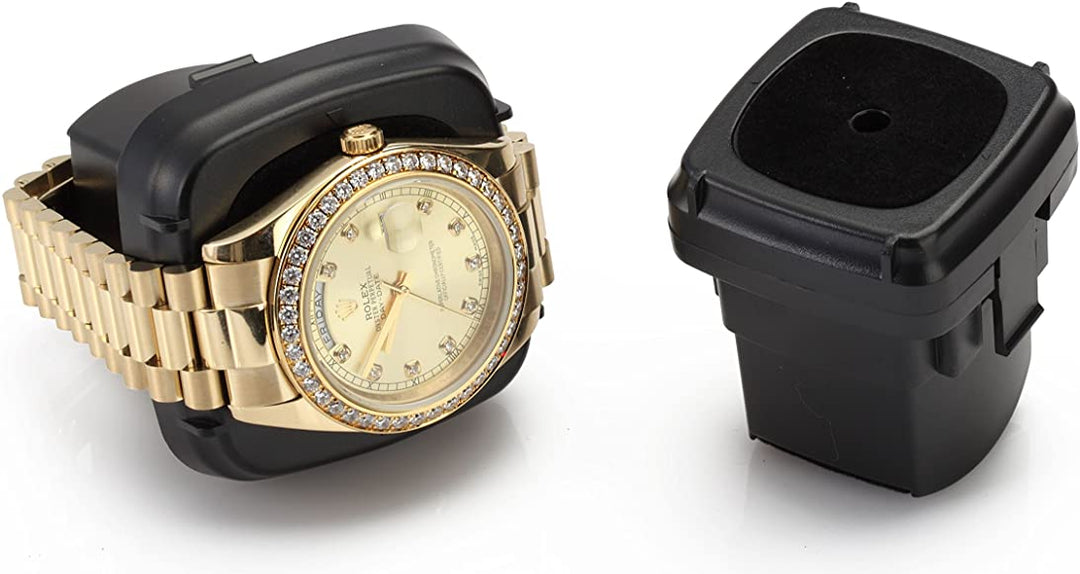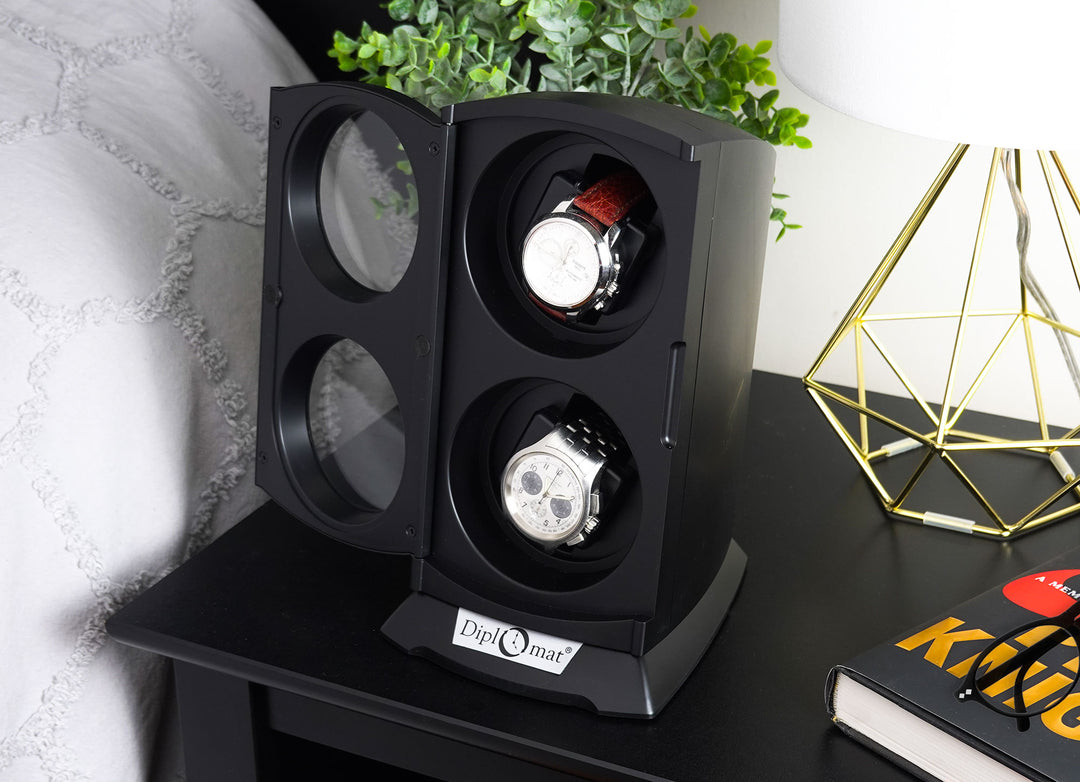 Diplomat Matte Black Double Watch Winder Tower
Regular price
$69.95
Sale price
$59.95
This Diplomat Economy Double Watch Winder is powered by a whisper-quiet Mabuchi motor and can be set at the following speeds: 1440 TPD (six minutes clockwise or counter-clockwise with a 30-minute pause), 2152 TPD (10 minutes bi-directionally for three hours with a nine hour pause), and 5760 TPD (20 minutes bi-directionally with a 10-minute pause). The adjustable mounting system insures a good fit for virtually any timepiece.
Diplomat Economy Watch Winders are protected by a one-year manufacturer's warranty and include a 110-240V AC adapter with purchase as well as a removable insert for larger watches.
Domestic Shipping: Shipping rates for most items are based on weight and delivery location. To calculate the rates for domestic purchases simply add items to your cart by clicking purchase for the items you are most interested in. Below your selected items, enter your zip code to calculate the shipping charge. We like to make shipping simple and affordable! Our preferred carriers are Federal Express Ground or Express, we will determine which carrier we use at time of shipment.

Rush Services: We can expedite the delivery of your purchases using the services of Fedex express service levels. These rates will display as available options when you checkout.

International Shipping: Rates are determined by weight, your location and speed of delivery via United States Postal Service. You may receive international shipping rates directly from our website.

Damages and Discrepancies: Although a rare occurence, damages in transit or order discrepancies can happen. We require that you notify us in writing within 48 hours of receipt of a damaged item or if there is any discrpancy. In the event of damages, you are required to hold all original packaging and the damaged product, lack of original packaging will nullify all claims.
No merchandise is to be returned without first obtaining a return authorization number from Watchboxco.com. Please advise of invoice number, invoice date and reasonfor your desire to return. No merchandise may be returned after 30 days from invoice date. Any authorized merchandise must be carefully packed and in re-saleablecondition to be accepted for return. A 10% restocking charge on all returned product when error is not the result of Watchboxco.com.

All returned merchandise must be shipped and freight prepaid. We will issue a credit memo on all returned merchandise unless otherwise instructed. Some items may not be subject to return including but not limited to custom orders, discontinued items and large quantity orders.

Canceling Orders & Refusals You may cancel your order at anytime prior to shipment. If for any reason an order is canceled after shipment you will be charged a 10% restocking fee and all responsibility for shipping will be charged to the customer. If an order is refused a 10% restocking fee will be charged to the customer and must accept all responsibility for shipping charges. If you need to cancel an order you MUST cancel prior to shipment via the telephone and receive a cancelation confirmation number. NO cancelations will be accepted via email or phone message.

Damaged Merchandise: In the event of damaged merchadise caused by freight carrier. We must be notified with in 5 business days of delivery date.